CarHub Charity Event 2018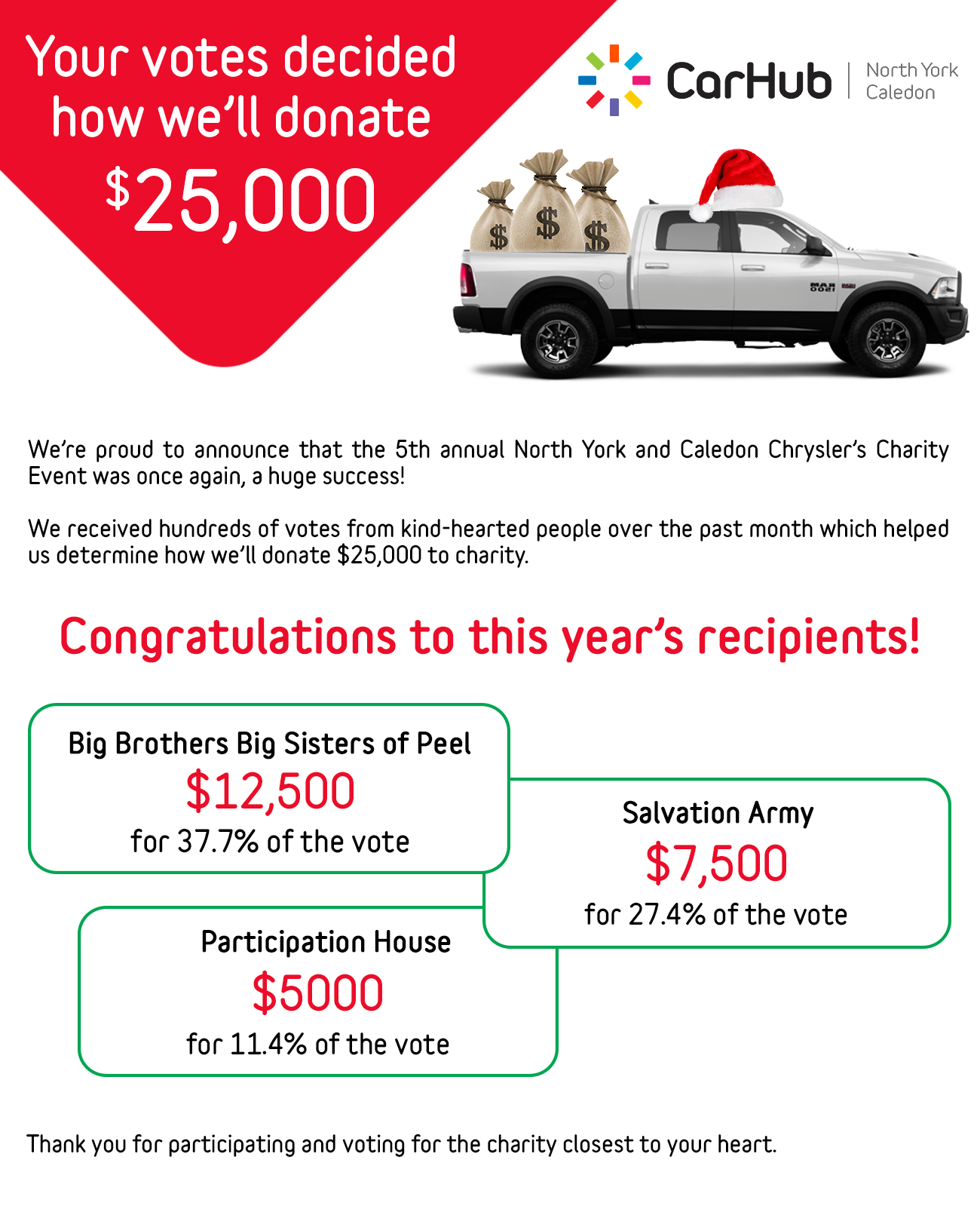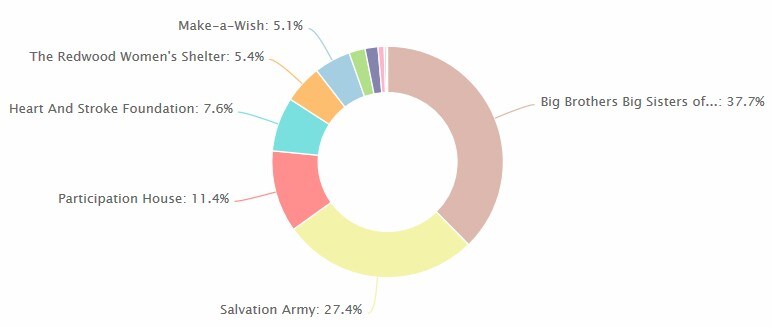 FULL LIST OF CHARITIES PARTICIPATING IN 2018
In order of highest votes:
BIG BROTHERS BIG SISTERS OF PEEL - Making a positive difference in the lives of our youth by providing mentoring programs. 
SALVATION ARMY - Providing Canadians living in poverty food, shelter and clothing to support them at their time of need.  
PARTICIPATION HOUSE, MARKHAM - Enhancing the quality of life of individuals with disabilities through services designed to reflect individualized approaches, community involvement and a respect for human dignity. 
HEART AND STROKE FOUNDATION - Provides heart-healthy information to Canadians and funds research into heart and stroke disease prevention and treatments.
THE REDWOOD WOMEN'S SHELTER- Full service shelter, offering refuge, counselling for women and children, support for women to get jobs and more. 
MAKE-A-WISH - Granting magical wishes for children with life-threatening medical conditions to enrich their life experience with hope, strength and joy. 
NORTH YORK HARVEST FOOD BANK- Meeting the food needs of northern Toronto by providing dignified food assistance, education and long-term food solutions. 
CANADIAN CANCER SOCIETY - Continues the fight to eradicate cancer and works to enhance of the quality of life of people living with cancer. 
CALEDON COMMUNITY SERVICES - A multi-service organization that assists community members with everything from youth and senior services to helping job seekers, small business advice, help for new Canadians and more.  
EVERGREEN HOSPICE THORNHILL - Evergreen provides community based supportive services to individuals and their families in Markham, Stouffville and Thornhill, who are living with life-threatening illness or coping with the death of a loved one. 
32 DIVISION COMMUNITY POLICE LIAISON COMMITTEE -  Provides scholarships to students from priority neighbourhoods, funds/resources to assist community events and programs. 
Previous Charity Events
CarHub Charity Event 2017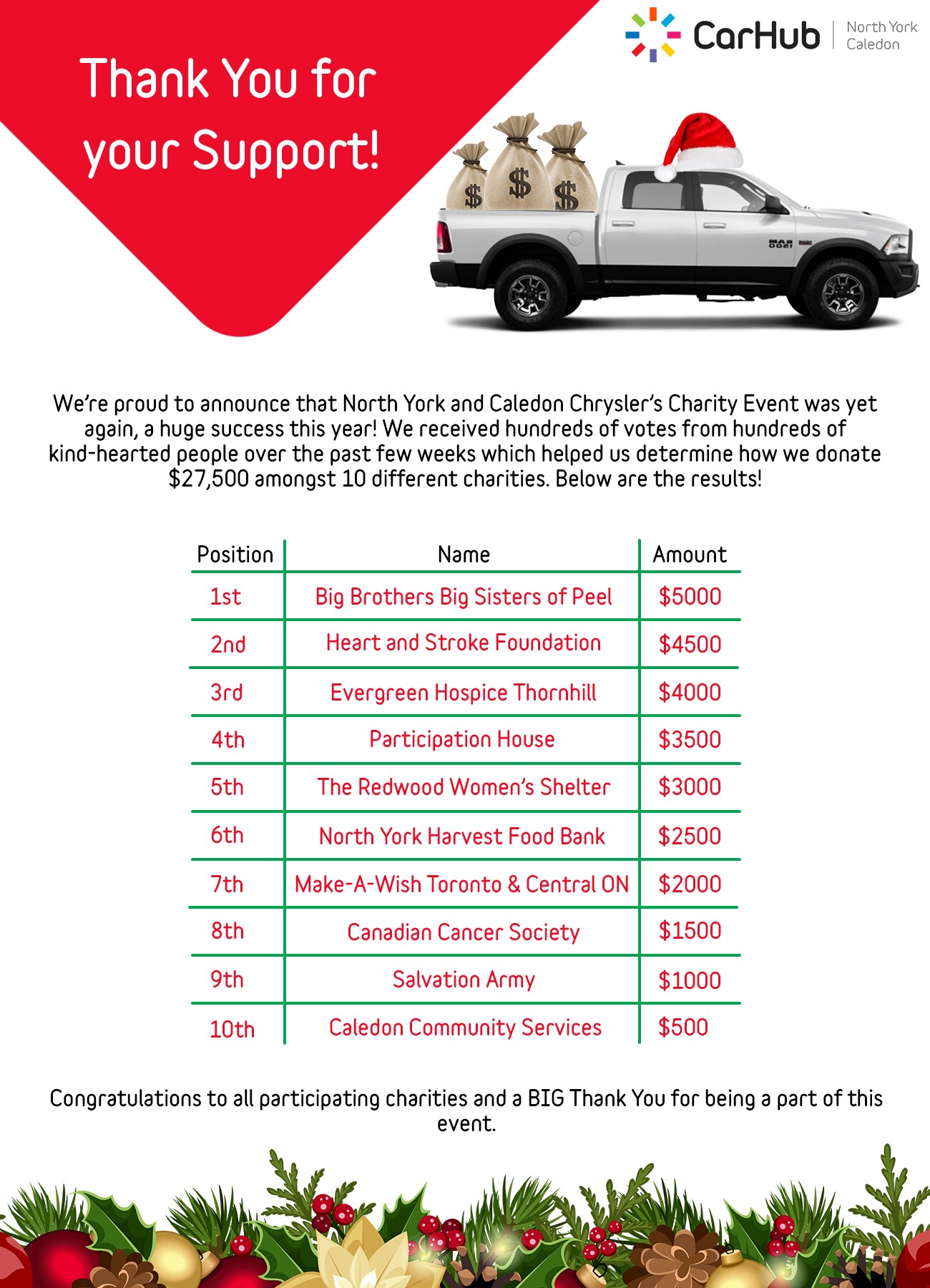 CarHub Charity Event 2016

Caledon Chrysler and our sister dealership North York Chrysler got together for the 3rd consecutive year to donate $25,000 to charity as voted by you. We're so happy for the charities that received the most votes and are receiving donations from us this holiday season. 


Congratulations to The Heart and Stroke Foundation which received the most votes and received a donation of $15,000, and to Big Brothers Big Sisters of Peel which had the 2nd most votes and received $10,000.
Thank you to all of the participants and to everyone who took the time to vote.  And if your favourite charity didn't make it this time, please continue to support them throughout this year as your support is always appreciated.