2017 Chrysler Pacifica vs 2017 Kia Sedona
Posted on March 10, 2020
Finding the right minivan for you and your family can be an overwhelming experience. The list of  "must-have" features can get rather long. You want a safe vehicle that is reliable, fuel-efficient, and comfortable. Since most minivans offer these basics, the search then comes down to higher levels of performance and connectivity. We thought that it would help if we took a closer look at two of the leading minivans available today, the 2017 Chrysler Pacifica and the 2016 Kia Sedona.
2017 Chrysler Pacifica
Available in three unique trim levels and nine bold colours, the 2017 Chrysler Pacifica is a more than a minivan, it's a technological breakthrough. The 2017 Chrysler Pacifica is an amazing combination of performance, comfort, fuel-efficiency, and safety. In addition, it will soon be the first in its class to offer a hybrid-electric vehicle.
Under the hood, you will find powerful 3.6L Pentastar VVT V6 engine that produces 287 horsepower, 262 lb.-ft. of torque and comes standard with a nine-speed automatic transmission. This front-wheel drive minivan offers outstanding fuel-efficiency with 8.4L/100 KM (34 mpg) highway and 12.9L/100 KM (22 mpg) city. If you chose the soon-to-be-available hybrid model, you can expect 3.5L/100 KM (80 MPGe).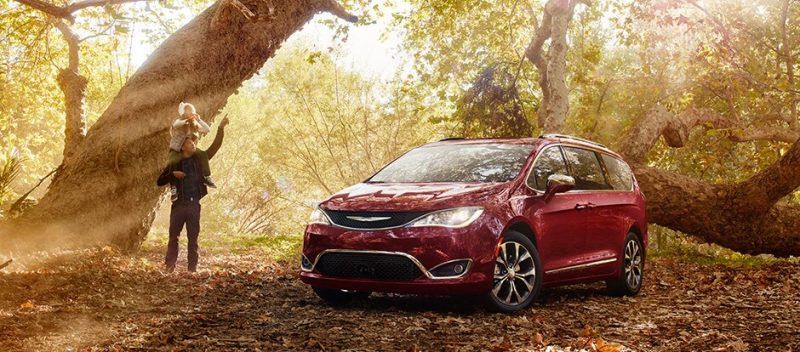 When it comes to safety, a major issue with minivan buyers, the 2017 Chrysler Pacifica is highly rated. You are surrounded by an eight air bags system that includes advanced multistage driver and front-passenger, driver and front-passenger inflatable knee bolster, supplemental front seat-mounted side, and supplemental side-curtain air bags for all rows. There are also four-wheel antilock disc brakes with Rain Brake Support and Ready Alert Braking and a ParkView Rear Back-Up Camera standard on all trim-levels.
Finally, your passengers, especially the younger ones, will stay entertained and connected thanks to the standard Electronic Vehicle Information Centre (EVIC), a Media Centre with hands-free Bluetooth communication and streaming audio, one year of SirusXM Satellite radio, UConnect with at least a five-inch touch screen and six speakers.
2017 Kia Sedona
The 2017 Kia Sedona comes in seven colors and six trim levels. The standard engine on all levels is a 3.3L GDI V6 that produces 276 horsepower and 248 lb.-ft. of torque. Drivers get a six-speed automatic transmission and the fuel efficiency rating for the Sedona comes out to 9.7L/100 KM (24 mpg) highway and 13.2L/100 KM (17 mpg) city. There are no plans anytime in the near future for a Kia Sedona hybrid model.
As far as safety and technology, the 2017 Kia Sedona comes standard with dual advanced front, dual front-seat mounted side, and dual side-impact curtain airbags. Much like the Pacifica, drivers receive a four-wheel anti-lock braking system and electronic stability control. An AM/FM/MP3 radio stereo is standard, however, you only get a three-month trial of SiriusXM Satellite radio and four speakers.
In the end, both minivans will take you from point A to point B. The question is will you enjoy the experience? Clearly, the 2017 Chrysler Pacifica excels in a number of important categories including:
Better fuel efficiency and a plug-in hybrid option
More standard safety and braking features
Better standard and optional comfort, audio, and connectivity features
The only way to make a proper choice is by deciding what features your busy life demands and then taking both for a test-drive. We do hope this Kia Sedona and Chrysler Pacifica comparison helps makes your choice easier.
More Articles About the Pacifica:
Is the 2017 Chrysler Pacifica the Greatest Mini-Van Ever Made?
The Chrysler Pacifica Hybrid and the EVIP $14,000 Rebate
Getting to Know the 2017 Chrysler Pacifica Hybrid
Top Ten Standout Features of the Chrysler Pacifica
2017 Chrysler Pacifica versus 2017 Kia Sedona
Chrysler's Pacifica Plug-in Slays Toyota, Honda on Mileage