Car Cleaning Tips For A Safe Ride During COVID-19
Posted on December 21, 2020
While many of us are eager to wash our hands (pun intended!) of 2020, we're also leaving this year with a heightened awareness of hygiene and safety which has revolutionized the way we live and work.
The COVID-19 pandemic has made breakout stars out of alcohol-based wipes and hand sanitizer, while frequent hand washing with soap and water has become a persistent mantra. COVID has seen all of us meticulously clean our homes, offices and clothing, which brings one question to mind- what about our vehicles?
That daily driver that you depend on to take you to work or the grocery store deserves a thorough car interior cleaning, particularly during the current climate of the second wave. Everything from the door handles to the leather interiors requires a disinfecting treatment, in order to keep the car safe for you and your family.
Fortunately, CarHub offers car detailing at both our North York Chrysler and Caledon Chrysler locations. Here are some tips from our detailing department for a COVID-safe car, as you safely navigate the snowy roads in the weeks ahead this winter. Not surprisingly, the rules for a safe car are very similar to the rules for keeping yourself protected from the threat of the virus. Read on to see what our in-house experts recommend for car interior cleaning and exterior cleaning this season
Consider All High Contact Areas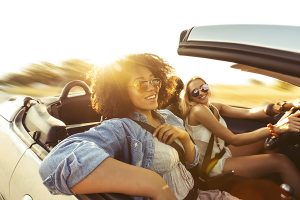 If you've been disinfecting the bottoms of your shoes when you step indoors and carefully wiping down packages of groceries, you already know the drill and know how important it is to cleanse surfaces. Your car has surfaces which are touched often, even if you don't realize this. From those door handles to armrests, your car is frequently met with your touch after you've just come in from the great outdoors. As we know, being outdoors these days isn't always great, especially if you are carrying germs from a visit to your local supermarket or heading out of your busy workplace! As well, our Service department recommends sanitizing all radio knobs, touch screens or heat adjusting knobs. At CarHub's drive thru, we are currently using a product called Bioesque Solutions. Tip: be careful not to damage your radio screens by using an excessively strong product. Also, be sure to follow the correct timelines for leaving disinfecting products on a surface, for best results.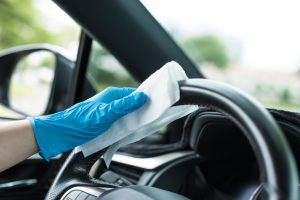 Use The Correct Cleaning Products
CarHub's detailing team recommends using alcohol-based wipes (such as Lysol) to scrub everything clean, particularly for high contact areas such as the steering wheel, armrests and seat adjusters. At CarHub, our team uses Tornado Magic Interior Cleaner to clean areas such as air conditioning vents and door jambs. Don't forget to clean your gear shift and air filter, and to give special care to these areas as well. According to a report by CarRentals.com, the average steering wheel is four times dirtier than the average public toilet seat- we're disgusted!
But be aware that some surfaces like leather steering wheels that can be damaged by some chemicals! Always make sure to read the label on your product before applying it to a leather steering wheel.
Remember To Vacuum
While vacuuming will not disinfect your car the way that alcohol wipes or cleaning fluids will, freshly vacuumed floors can help to keep germs at bay and also lend the appearance of a beautifully maintained vehicle interior. A professional hand with the car vacuum cleaner or car steam cleaner will ensure that your car stays free of dust, debris and other particles, all of which can attract bacteria and make for an unpleasant (or even unhealthy) ride.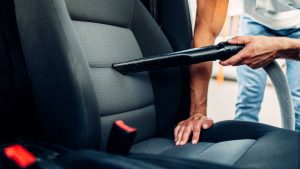 Look After Your Leather
While a proper, professional car cleaning is the way to go, you can also disinfect and polish your leather in between visits. Try gently using a household cleaner to carefully wipe your leather interiors, although you'll want to be careful when using harsh, alcohol-based products, as these have a tendency to dry out leather and can even remove colour from the surface. If you've finally bought that sweet ride with those ivory leather seats, you'll want to keep your interiors in mint condition, and free of any smudges or stains from improper cleaning!
Once you lightly cleanse everything with a household cleaner to remove germs, turn to a leather cleaner and leather conditioner for the ultimate in shine and a sparkling finish. Our team uses Carolina Hi Gloss for both leather and plastic surfaces.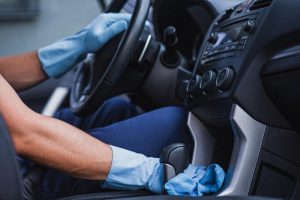 Always Be Prepared
It's always better to be safe than sorry, and whether you plan to use your vehicle this winter for short commutes to work or longer road trips, you'll want to follow this golden rule. Keep your trunk stocked with a car cleaning kit, which contains cleaning wipes and detailing products. Remember to put on hand sanitizer before you get behind the wheel, and remember to drive safely and comfortably this winter season.
If you have any questions or require a car detailing service, we will be more than happy to assist you here at CarHub. Contact us today!