Top 10 Summer Road Trips In The Toronto Area
Posted on August 14, 2020
With days full of sunshine and nights filled with stars, summer is the perfect time to hit the open road and feel the wind in your hair. Despite what you may think, you don't have to venture far from home to have a thrilling road trip this summer.
At Caledon Chrysler, we love the feeling of the ground beneath our tires, so we've put together a list of our favourite road trips in the Toronto area. These scenic drives will make you feel wild and free, but will have you back home in time for work on Monday morning. So whether you have an hour or all weekend, get out a pen, some paper and a map, and let's get planning!
Explore Lighthouses and Shipwrecks
If you're dreaming of turquoise lagoons of faraway lands but don't have the cash (or time) for an overseas excursion, we've got the perfect road trip for you! Bruce Peninsula National Park is a bit of a drive from Toronto-4 hours northwest-but you'll swear you've been transported much further. Spend the weekend exploring the archipelago of 19 islands (including the precarious rock formation known as Flowerpot Island). Walk past breathtaking cliffs, caves and lighthouses. And for the truly adventurous, strap on scuba gear and get up close with some fascinating shipwrecks. This scenic road trip is a must for your summer Bucket List!
Prince Edward County
Calling all food and art lovers! Price Edward County has been coined "Ontario's Gastronomical Capital," and is also home to a variety of artisans. Follow the popular Taste Trail or Art Trail(or a combination of the two) for a day filled with culinary and artistic delights! A drive along these open roads would be perfect sitting shotgun in a new Jeep Wrangler. Picture it: The windows are down, the wind rushes through your hair, and you stop only at the cutest artisan shops, breweries and ice-creameries sprinkled along the way. Be careful-you may just get lost in the charm and culture of Prince Edward County and never return to city life.
Tubing Adventure in Elora Gorge
Cool down on a hot summer day by grabbing some friends and heading to Elora Gorge. This stunning piece of the Grand River Valley has scenic overlooks, hiking trails and rapids to be enjoyed by inner tube! Continue the fun by spending the night in a tent beneath the stars in Elora Gorge Park. If spending the day splashing around on the river isn't your thing, there are plenty of cute arts and crafts shops lining the streets of this heritage town just begging to be explored.
Be Amazed by Niagara
If you're a Toronto native, there's a good chance you've stood at the edge of this massive beauty at least once. But when it comes to Niagara Falls, one time just isn't enough! People come from all over the world to see this waterfall, so we are pretty lucky to have it so nearby. Take advantage of Toronto's proximity to Niagara Falls and play tourist for the day. Spend the afternoon taking cheesy pictures and getting sprayed by the mist of one of our most beautiful natural wonders.
Go Chasing Waterfalls
Niagara isn't the only waterfall nearby! Just about an hour southwest of Toronto, Hamilton is known as The City of Waterfalls. In fact, this town is home to more than a hundred falls, as well as plenty of hiking trails to view them from. After working up an appetite on the trails, head into town to grab a bite. The Ship is a local favourite, known for serving up juicy burgers and lip-smacking fish 'n chips. This short but scenic excursion is a perfect escape from city life for the day.
Head Down South
If the Toronto summer isn't quite hot enough for you, head to Point Pelee National Park for some nearly tropical temperatures! Just 4 hours south of Toronto, this park is the southernmost tip of mainland Canada. But its latitude is not the only draw; there's plenty to do in Point Pelee National Park. From canoeing and hiking, to sunning on the beach and bird-watching, there's something for everyone down south!
Bask on the Beach
If you're like many people, summer will have you itching for some time on the beach! Lucky for us in the Toronto area, we don't have to venture far to find some incredible sandy beaches that will make you forget all about Florida and the Caribbean. Grab some sunscreen, a beach towel and your favourite book, and head three hours east of Toronto to Sandbanks Provincial Park. Here you'll find three sandy beaches with water that's begging to be splashed in! And if you get bored of lazing in the sun, there are plenty of hiking trails to be explored.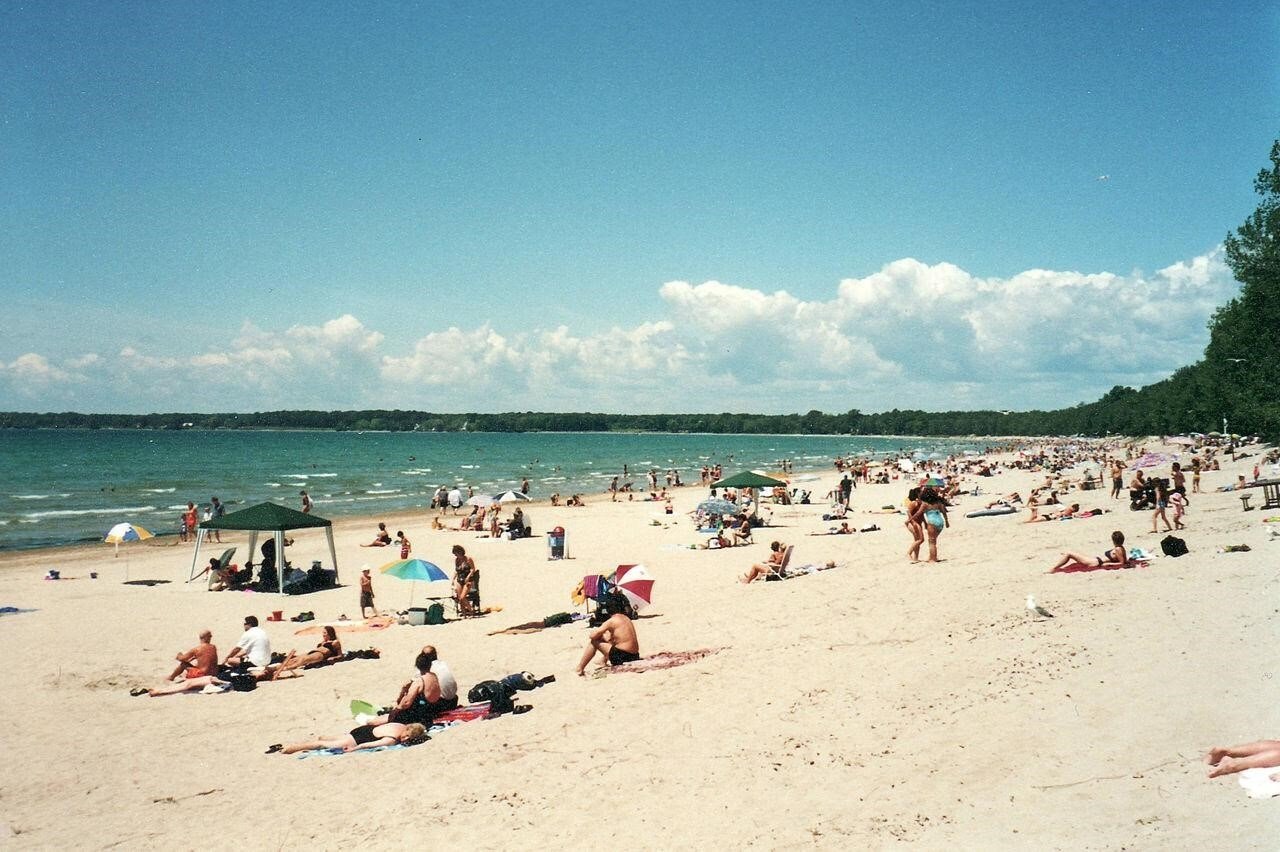 Go Caving in Collingwood
A popular retreat during the winter months, Collingwood is known for skiing, snowshoeing and other cold weather sports. But come summertime, there are plenty of activities to be enjoyed in this town, just two short hours north of the city. Try zip lining, cross Southern Ontario's longest suspension bridge or explore the region's famous caves. Reaching down as deep as 70 feet, there is an ice cave in Collingwood that is known to have snow and ice even in early summer. If that's not enough to cool you down on a hot summer day, a cold post-hike beer should do the trick!
Work on your Downward Dog
If you really need an escape from the hustle of city life, we have just the place for you. Kingston's Wolfe Island is home to Shanti Retreat yoga centre. Whether your intention is to perfect your downward dog or get some much-needed R&R, Shanti Retreat will deliver. And even if yoga isn't your thing, Kingston is still a good choice for a weekend getaway with nice cycling roads and charming town.
Raise a Glass to Summer
Picture this: A glass of crisp white wine in hand, a cheese platter in front of you, and sweeping sunset views to round out a perfect summer day. You don't have to go to France or even Napa Valley to sip a fine Chardonnay. Instead, venture just past your own backyard to Niagara on the Lake. The high concentrations of vineyards in this area make it ideal for a summer road trip. Don't know where to start? Hinterbrook Winery is a small operation and all grapes are picked by hand. Enjoy a glass paired with an assortment of tapas from their kitchen. And Ravine Vineyard Estate Winery serves up some delicious local fare, and offers a free wine tasting with each meal. Raise a glass and cheers to summer!
With all of these road trips in mind, your summer weekends are likely to fill up quickly. But hey, that's the beauty of summer! Don't let a poorly running car get in the way of your road trip plans. If you're daydreaming of a new set of wheels to carry you on the open road, stop by our dealership today to learn about our inventory of Jeeps. You can also head over to our website with just one click and browse our inventory of Chrysler, Dodge, Jeep or Ram vehicles.
We at Caledon Chrysler wish you happy trails and safe driving this summer!