2017 Chrysler Pacifica vs 2017 Toyota Sienna
Posted on March 10, 2020
Some manufacturers that used to offer minivans in their ranges have decided to walk away from the segment as buyers are increasingly hard to find in the wake of the onslaught from crossovers of all shapes and sizes. Those that are still building them are really starting to up their game though to attract those buyers who still appreciate the unbeatable versatility and capability of a minivan. As the 2017 Chrysler Pacifica and 2017 Toyota Sienna are a couple of models that illustrate that better than most, let's take a closer look to see which family minivan is best.
Styling
No minivan is every going to look as cool as muscle car, but it's impossible to not give FCA's designers immense credit for how well they've done with the styling of the Chrysler Pacifica. It's still effectively a one-box shape, but Chrysler has done everything it can within the confines of a minivan to produce something classy, stylish, and yes, even desirable. The Toyota Sienna has also shaken the segment up a little with an interpretation of the brands signature fascia that's as divisive as it is contemporary. The rocker panels and big wheels make a good attempt at injecting some desirability into the Sienna, but it just falls short of what Chrysler has achieved with the Pacifica.
Safety
Despite just how squarely minivans are aimed at families, older models don't have a great reputation when it comes to safety. Chrysler has certainly addressed that failing with the all-new architecture of the Pacifica that was specifically developed as a platform for crossovers and minivans. Across the border in its US home, the Pacifica score top marks from both major crash testing agencies, which is seriously rare for a minivan. Toyota has been stuffing all its models with advanced safety features recently, and the Sienna has been given a good share. However, it doesn't rate as highly for driver and occupant safety as the Chrysler does, so this important section also goes to the Pacifica.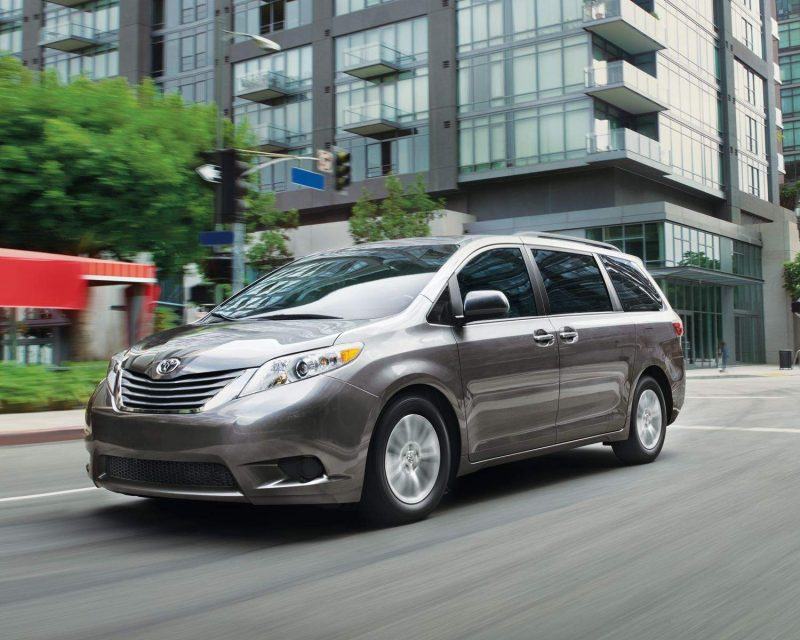 Performance
The Toyota has increased the amount of power its 3.5-liter V-6 develops in the Sienna to 296 horsepower from the previous 266. That does give it an edge over the Pacifica, which has a 3.6-liter V-6 that puts out a slightly more modest 287 horsepower. The Sienna offers a smooth ride and quick steering, but physics quickly get in the way as it's still heavy, and therefore a little sloppy. But if you've stayed away from minivans because crossovers just drive so much more like a car, the Pacifica could make you change your mind if you give it a chance. The Chrysler accelerates strongly and smoothly, the ride is comfortable and consistent, and it handles a lot more like a crossover than most minivans that can sometime feel like cargo vans with a few seats thrown in for good measure.
Verdict
If you're looking for a minivan and you come across the Toyota Sienna first, you won't be disappointed by it in any way. But if you come across the Pacifica first, or especially if you try the Chrysler after you've been in the Toyota, you'll quickly see why we have no hesitation in recommending the Pacifica over the Sienna here.
The 2017 Chrysler Pacifica is available right now from Caledon Chrysler, so don't hesitate to get in touch for more information and to experience this sensational minivan that sets new standard in its segment.