2021 Ram 1500 TRX- Everything You Should Know
Posted on December 16, 2020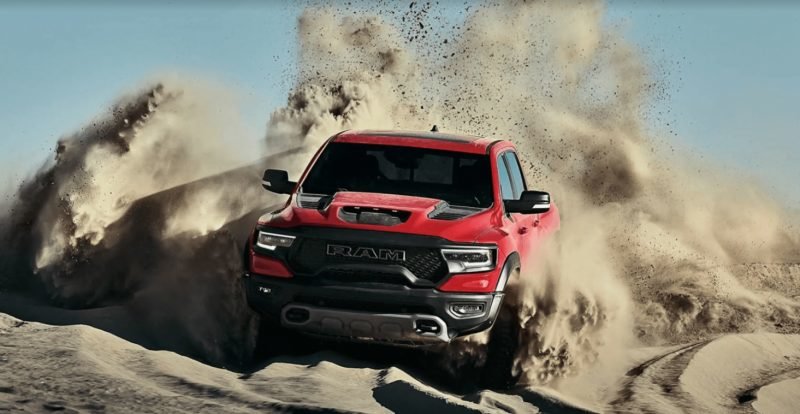 Dodge has always had a thing about high performance trucks. Back in 1978, the company debuted the Dodge Lil' Red Express Truck for about $8000. They outfitted it with a 225 horsepower V8 engine and it was considered one of the first performance trucks. It actually outperformed that year's Ferrari 308 and Porsche!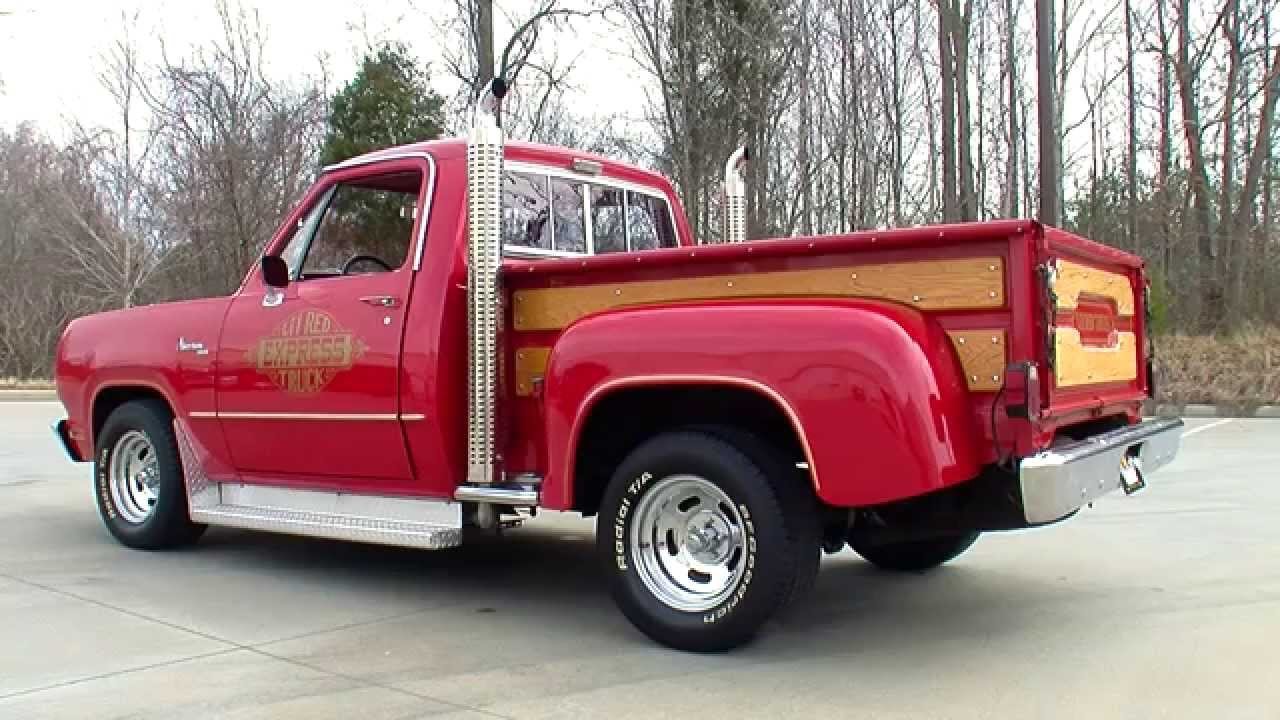 In 1996, Dodge unveiled a concept vehicle that caused quite a buzz at the Chicago Auto Show. It was a Ram T-Rex 6x6 with a 497 hp Viper V10 engine. It was never put into production, but it was a vehicle Dodge was convinced had a future.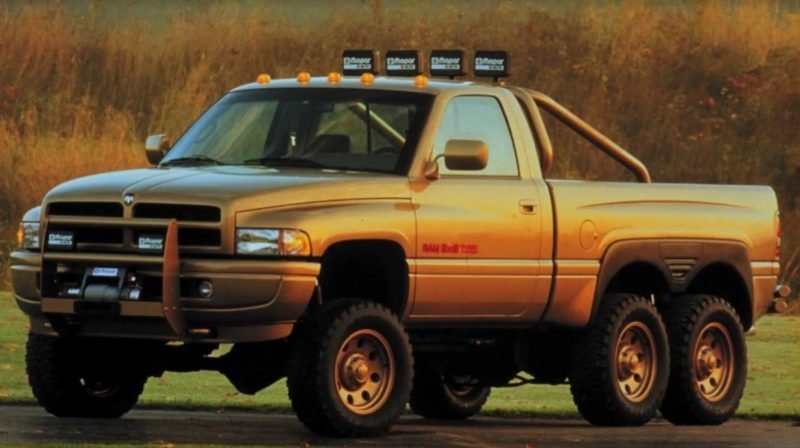 It took almost 10 years, but finally in 2004, the Ram SRT-10 with a Viper V10 performance engine was introduced to the market.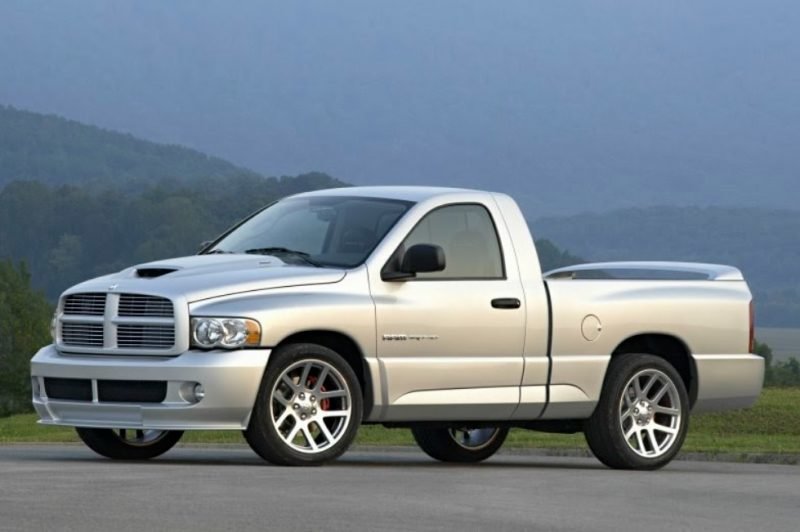 Fast forward to 2015, when Dodge Chargers and Challengers were introduced with the Hellcat engine, everyone was speculating about what vehicle would be next in line to get the Hellcat. We've seen it added to the Jeep Grand Cherokee Trackhawk, the Dodge Durango SRT and now, the Dodge Ram 1500 TRX! This is the vehicle any car enthusiast who needs a truck would want!
If you have a need for speed, the 2021 Ram 1500 TRX with a supercharged Hellcat engine and off-road, four wheel drive just may be the pickup truck of your dreams. This extreme off-road, high-jumping 4x4 Crew Cab with a 5'7" Bed is already making waves for its ability to deliver 702 horsepower, courtesy of a Supercharged HEMI V-8 6.2L engine.
Meanwhile, this half-ton pickup truck is renowned for its ability to haul, tow or be used for performance driving or off-roading. As a proud Chrysler Dodge Jeep Ram dealer, CarHub Automotive Group is delighted to introduce the newest and most powerful member of the Ram family.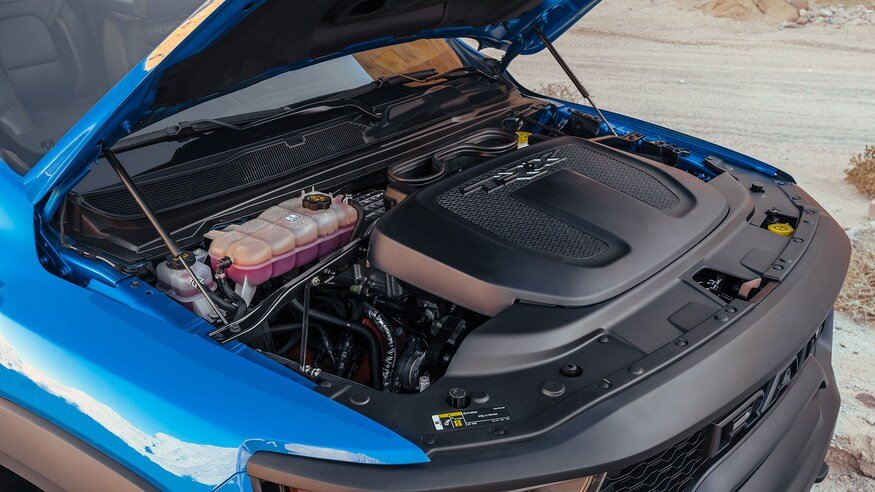 With a new year on the horizon, this high performance vehicle is the newest addition to the lineup of Ram trucks. For adrenaline junkies and adventure lovers who are eager to go from 0 to 100 kilometres per hour in 4.5 seconds, there is nothing quite like the sheer force and agility of the TRX. Here's a closer look at all the details from this beast, from performance to its luxe interior.
Performance
Unlike other Ram trucks, this beast is powered by a proprietary control algorithm, which is able to monitor vehicle sensors and adjust to a variety of settings. These variables include speed, braking, the angle of steering and far more. All of these customizable components allow you to truly personalize your ride and your experience behind the wheel of the Ram 1500 TRX.
Meanwhile, the inclusion of Dual Valve technology ensures that each shock absorber can adjust both the compression and the rebound forces. The TRX also runs on an 8-Speed TORQUEFLITE automatic transmission and has undercarriage protection for added safety.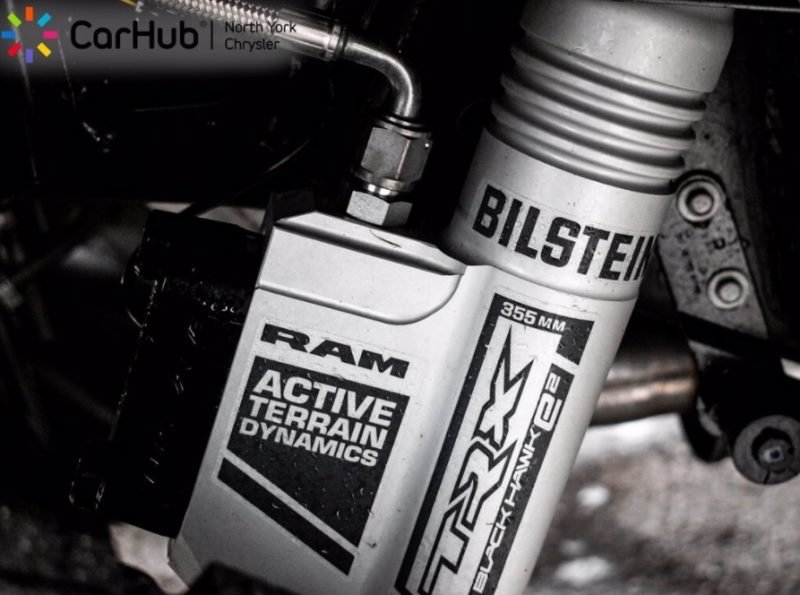 Exterior
You'll be greeted by a sleek, stylish exterior when you glance at the outside of the Ram 1500 TRX. This baby is designed with 18" black polished alloy wheels and an option to upgrade to bead-lock aluminum wheels, along with an optional panoramic, dual pane sunroof for a taste of the open air.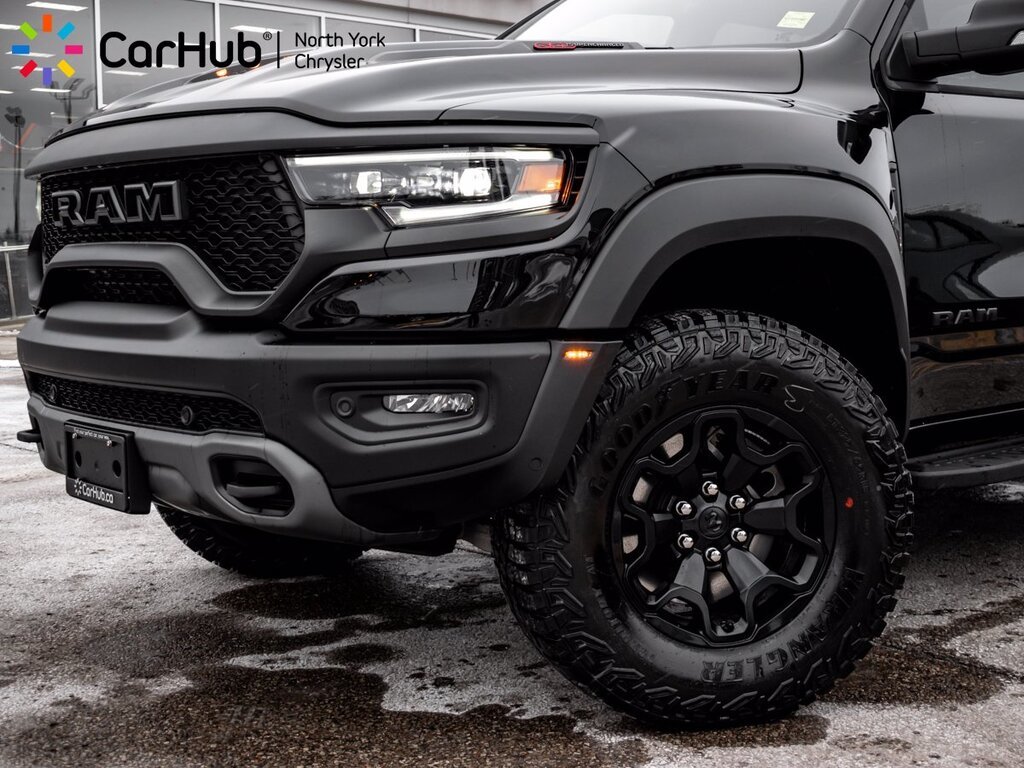 Interior
While the exterior certainly brings forward an image of sophistication and power, the inside of the TRX is no exception to this rule. This 4x4 features a heated leather and suede flat-bottom steering wheel, black leather bucket seats and heated front seats, for a comfortable and chic interior which brings the Ram to an entirely new level.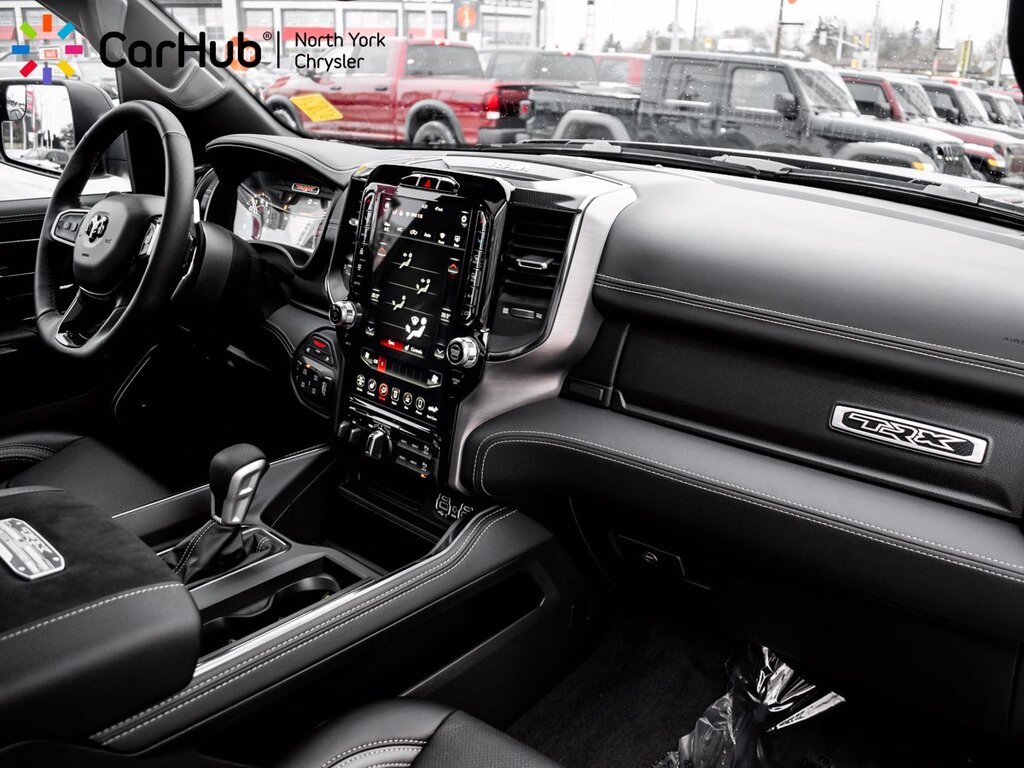 Tech Features
Take a peek inside and you just might notice some tech features which are intriguing to you. First of all, you can pump your beats as loud as you like, thanks to the 900 watt 19 speaker Harman Kardon sound system. The TRX is also equipped with a 12" Uconnect Head Unit, remote start, LED bed lighting and a trailer tire pressure monitoring system.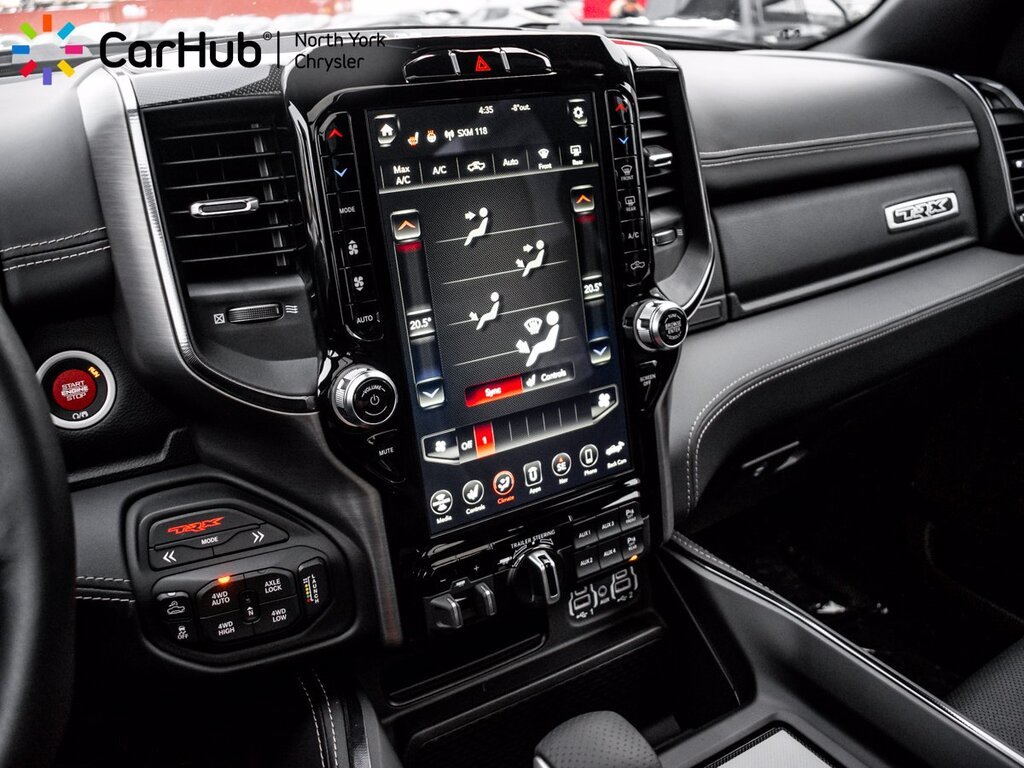 Safety Features
Of course, when you are powering such a large vehicle, safety is always first and foremost. Thankfully, the TRX offers a variety of safety features to ensure that you have a secure, stress-free driving experience. Some of these include Backup Camera with ParkSense technology, forward collision warning, rain-sensing windshield wipers and cruise control.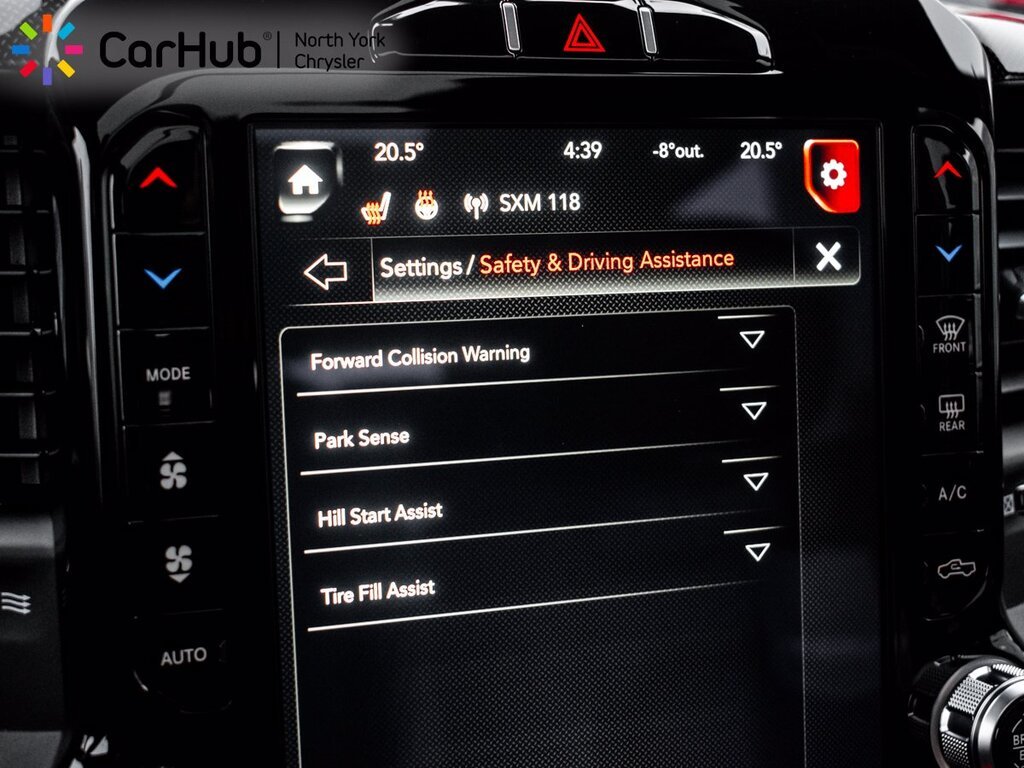 Function With Luxury
While luxury is not always the first word that comes to mind when you think of trucks, the 2021 Ram 1500 TRX merges practicality and function with a luxe interior, which features a leather-wrapped steering wheel, along with fade-to-off interior lighting, smart device integration and a custom Valet mode which allows you to keep your keys while waiting for valet parking services. Meanwhile, you can also add the Rambar feature to your truck, which will allow you to install lighting in a sleek, portable way.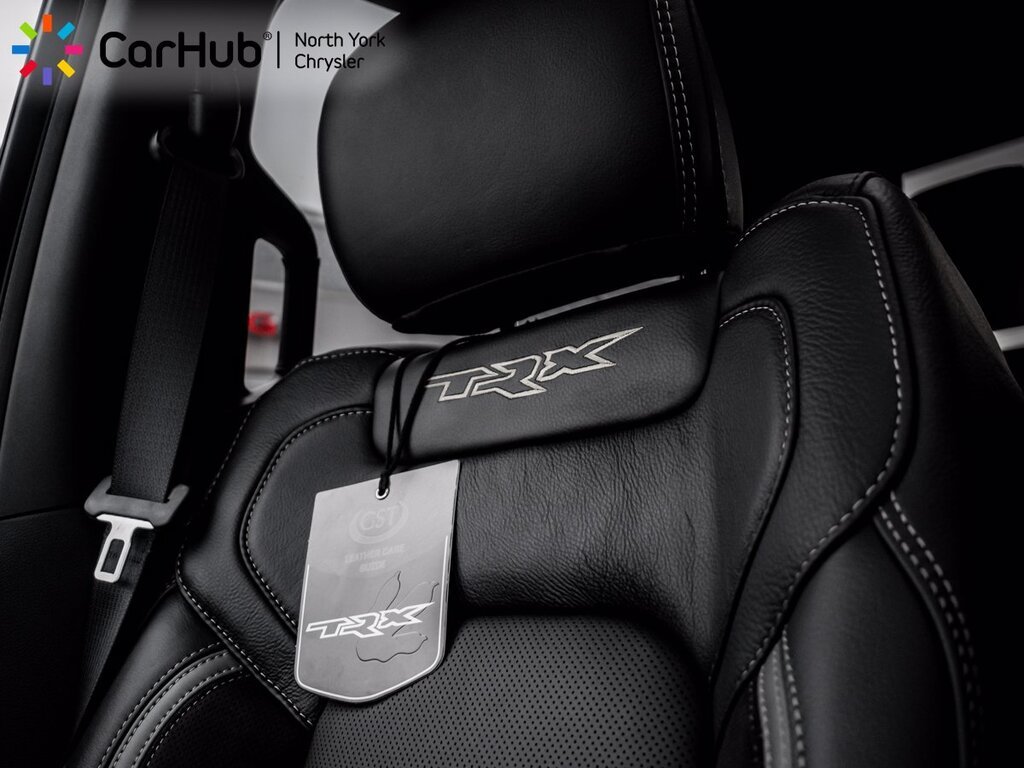 Hit The Road- Get Into The Mode
On the road, get ready to power through with eight different drive modes, which include Mud/Sand and Baja.
Aptly named for its ability to navigate through mud and sand, the Mud/Sand mode is developed with adventure in mind. Whether you are planning a road trip that will take you across rugged terrain or a camping weekend, practicality and a sturdy design make the 2021 Ram 1500 TRX an ideal choice. Baja mode brings to mind the famous Baja 1000 off-road motorsport race in Mexico. Take your inspiration from this legendary race, and hit the roads in similar style to make the most of your powerful steering capability.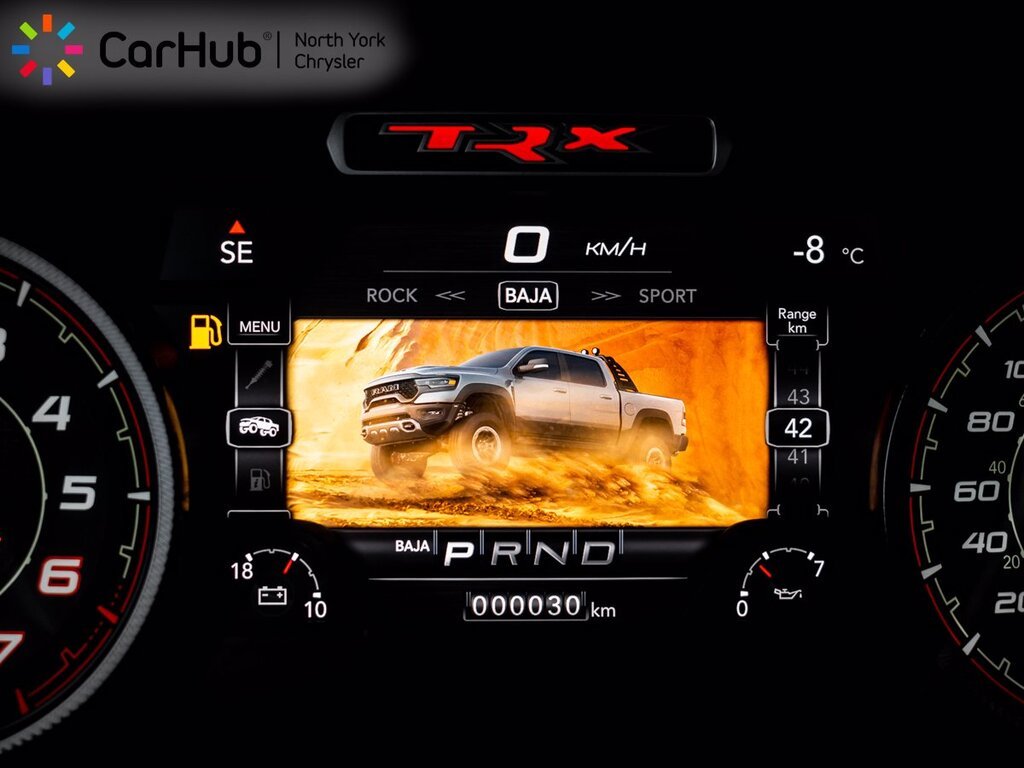 Along with the notable Baja mode and Mud/Sand mode, the Ram also comes equipped with Sport Mode and Custom Mode. Living up to its name, Sport Mode stays agile and fast-paced, allowing you to shift quickly as you navigate, with a strong suspension.
Customize It
Meanwhile, the Custom Mode of the 2021 Ram 1500 TRX is created for drivers who want a more personalized experience behind the wheel, and are familiar enough with the vehicle to completely trust themselves to take control of the truck.
If you prefer customization, this driving mode will let you set your own expectations, whether you would like to adjust the suspension, torque or beyond.
Get Ready
Although it is still in its early days, the Ram 1500 TRX has received a warm reception from avid drivers and auto critics alike. It has been named Motortrend's 2021 Truck Of The Year and is currently leading the truck game, when compared to its close competitor, the Ford F150 Raptor which has a 450 hp V6 engine.
If you are interested in considering the TRX, be sure to contact us today and make an appointment with a Product Advisor for a test drive. CarHub looks forward to welcoming you and showing you all the innovative perks and functional features of the new Ram TRX!